THE BOWEN TECHNIQUE

We believe that the Bowen Technique is one of the most versatile and effective therapeutic treatments available today offering significant relief for many conditions. After taking a comprehensive case history and discussed your condition in detail, a treatment will consist of a series of gentle moves on skin or through light clothing, with the client usually lying on a bed or treatment couch, although it is possible to be treated seated. A session usually lasts up to an hour and frequently results in a deep sense of relaxation helping the body to recharge and balance itself.
A treatment consists of a series of gentle rolling moves with frequent pauses between moves giving the body time to benefit from each set. Practitioners treat the body as a whole or can target a specific problem, as they are able to pinpoint stress build up in muscle groups and then release it. The Bowen Technique both balances and stimulates – the restorative process beginning once the body is relaxed. It's referred to as 'complementary' – meaning it will enhance and complement other medical treatments. However, it should be noted that receiving other manipulative therapies immediately following a Bowen session can undermine the effectiveness of the Bowen work. It is better to wait a week before starting any other treatments.
Bowen is Holistic
The Bowen Technique is perhaps one of the single most important tools we have to help heal the body. The moves produce good results by penetrating to a deep cellular level – making use of the body's own ability to heal itself. Moves begin to achieve holistic balance straight away, embracing the client's physical and emotional aspects
Body Structure
A Bowen treatment addresses fascia tissue as well as the muscles and skeleton. Fascia is the sheet of connective tissue that covers the structures of the body – allowing flexibility and movement between various parts of the body. It is fascia that is, in part, responsible for your posture – so in Bowen we pay it a lot of attention. For example,  it affects the way we hold our spine. By influencing the way the muscles and fascia work together, we work to influence the way the structure works - encouraging your spine to adopt a better, less painful, position. We find that his approach often results in a much longer-lasting effect on body alignment than some manipulative therapies.
Gently does it
A classic Bowen Treatment is very gentle. There is no vigorous 'pulling about'. Rolling moves are made on skin, muscles and tendons and elicit a powerful effect on the body.
Pathways to the Brain
As the muscle is held, prior to the move being made, it is gently stretched, sending sensory information to the brain. There are thousands of these stretch receptors and thousands of times a second they repeatedly send this information to the brain about the status of the muscle that is being treated. The brain sends corrective information back to the individual muscles. Bowen moves are carried out in short sequences at key structural points with a gap of a couple of minutes between each sequence. The client is left to relax in a comfortable, warm atmosphere. It is a quiet time, with little talking, except for the client to feedback to the therapist about any sensations they may be experiencing.
Scientific Research
Scientific research is ongoing – there have been several studies into our work on Frozen Shoulders, with positive results. Some research has shown that stretches of fascia produce small electrical charges and other neurological changes. Research has shown that the brain has areas of "body maps", which contain your personal "blueprint". It is believed that the sequences of Bowen moves stimulate the body to repair itself to the blueprint.  Also interesting is that blood tests before and after a treatment have revealed raised levels of chemical activity after the treatment and for all body systems to show a marked improvement in function. Some heart rate studies have shown rapid normalizing of fluctuating rhythms with clients commonly reporting sustained lower stress levels and a feeling of well-being.
We believe so. Our experience demonstrates its benefit for people of all ages, including newborn and infant children. Although it is a tool for treating ailments and injuries, many healthy people come along to enjoy treatments to maintain balance and their sense of well-being. Victims of sports injuries and accidents have found the Bowen Technique very  helpful as a remedial therapy during their recovery. It may improve rehabilitation time regardless of when the injury was sustained.
Who Can Benefit from Bowen Therapy?
There are a great variety of conditions which Bowen can help, these include:
Back / neck / shoulder pain
Sciatica
Whiplash
Frozen shoulder
Sports injuries
Knee / ankle / foot pain
Tennis / Golfers Elbow
Carpal Tunnel Syndrome
Migraine / headaches
Infant Colic
Bedwetting
Hayfever / Asthma
Repetitive Strain Injury
Acute / chronic pain
Arthritis
Problems arising through pregnancy
Gynae problems - infertility, PMS,policysticovary pain
MS, and other neurological conditions
Chronic Fatigue / ME
Stress
Digestive problems - IBS, Colitis, Crohns
Bowen in Sport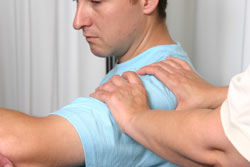 Bowen is useful in three respects with regards to sport:
For the treatment of sports injuries
To reduce the risk of re-injury
To prevent injury
Regular Bowen can help sports people experience less injury, reduce severity of injury and can greatly reduce healing time. Bowen can enhance performance by increasing flexibility and balancing the structure of the body.
At the Suffolk Bowen Therapy Centre we are fully qualified physiotherapists so we can also compliment our treatment with our vast knowledge and experience in setting up stretching and exercise programmes.
Bowen and Asthma
Asthma is a very individual condition and a holistic therapy such as Bowen is ideally designed to address the problem according to the individual's needs.
Whether mild or severe Bowen can help to reduce the level of the attack very quickly as well reducing the frequency of attacks and reliance on medication.
Many studies are being undertaken and results are very positive.
Bowen and pregnancy
Back pain during pregnancy is a common consequence of carrying a baby. Various skeletal disorders develop, especially in the last trimester as your ligaments, muscles, tendons and joints all have extra load placed upon them.
Lower Back Pain (LBP)
Groin / pubic pain
Coccyx / tail bone pain
Sciatica
Bowen Therapy is a gentle and effective way to address these types of pain.
Bowen and babies
Babies often develop digestive problems after a feed, and have tummy cramps (colic) and infrequent bowel movements. They may have sinus congestion and runny, watery eyes, or may just be generally unsettled.
Bowen can be highly effective in the treatment of these problems, in a gentle non-invasive manner.
Bowen Testimonials!
I had been struggling to walk as I had an heavy leg and weakness in my shoulders and arms, so I went to Anthony for therapy. After the first treatment my leg improved and my arms regained all their strength, and after the second treatment I could walk properly and my leg felt normal again! It was during this time that I was diagnosed with MS and the weakness in my arms and heavy leg were symptoms of the MS. To my amazement the spinal touch and bowen had virtually cleared up all my symptoms and I feel a lot better. Anthony also gave me lots of dietary advice which has led me to have lots more energy. More than I had before I developed MS!
Thanks so much Anthony
Julie Macinness  Oban
I recently visited Anthony at Mind Body and Soul Fitness for help with some ankle and knee pain. I have been suffering with pain in my ankle and knee for a long time and underwent a few different treatments. I had never been given a clear explanation of what might be causing my problems. After one visit to Anthony I felt I understood what the problem was and felt confident he could fix it. I had two more sessions with Anthony and by the end of it I felt a lot better with my injuries almost completely cleared up! I still have a programme to follow which Anthony gave me and I feel better every time I work on it! The treatment he gave me was both effective and very relaxing. I am now able to take part in sports without the old aches and pains after!
Willie Gemmel  Oban
I received 3 Bowen sessions to treat shoulder/neck pain, hip/lower back pain and ovary pain. My shoulder pain is 95% gone. I had been pain free after the first treatment but I overused the shoulder resulting in an increase of pain. After 2 further treatments, the pain is almost completely gone and I'm only feeling a very slight awareness of it. The associated neck pain and headaches have gone completely.
Hip pain is something that increases during my cycle and sessions 2 and 3 fell at the time when it's usually at its peak. I've been completely pain free since and even activities that usually exasperate it such as walking and climbing have been done without any pain or aching whatsoever. Have had no lower back pain at all since treatment.
I have Polycystic Ovary Syndrome which results in quite severe ovary pain, especially just before and after my period. Around the same time I have extreme sickness (the day before my period starts and the day after it ends) and generally feel very unwell. Anthony performed a coccyx movement and the results have been phenomonal. Ovary pain completely gone, no sickness after my period and didn't lose a day to illness as I usually do.
Really pleased with the outcome and would recommend
the treatment and Anthony to anyone
Heather Allen  Port Appin
Hi, Marion here. Just like to thank you for the opportunity to participate with your treatments. I would like to say it was really good. As you are aware my back was bad and I feel after the treatments my back has vastly improved from when I first went up. Thank you so much indeed, much appreciated. I know where to go now if I need any treatment.
Thanks again
Marion Maclean    Oban
Thanks to Anthony I have no more numbness on my face from my neck and back problems. I went on a long bike ride which would normally leave me stiff and in pain but nothing... I felt great!
I would highly recommend Anthony
Katrina Morrison  Oban
Have had asthma since I was 40 and when I was having a particularly bad bout of weazing I had some Bowen of Anthony that instantly relieved my symptoms . 4 Bowen Sessions later and on Anthony's advice giving up wheat and gluten and using aloe juice to heal my gut I no longer need my steroids or have to use my inhaler which I had to regularly beforehand !
Thank you Ant I feel much better now Julie Bainbridge  Buxton